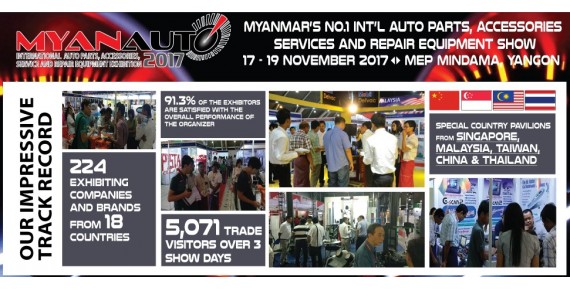 BRING YOUR BUSINESS INTO OVERDRIVE AT MAYNMAR'S BIGGEST AUTO AFTERMARKET EXPO
Myanmar's Automotive Aftermarket industry is heating up, and if you want to enter the fast lane, your chance to set your business into overdrive is here with Myanmar's Biggest International Automotive Parts, Accessories and Servicing Exhibition - MYANAUTO 2017 Expo.
The Asian Development Bank has reported 8.4% growth in Myanmar's gross domestic product in 2016, and 2017 figures are projected to be 8.3%. This greatly puts the country ahead of all other countries in the Southeast Asian region in terms of economic growth. With a new leadership under Daw Aung San Suu Kyi's political party, a strong population of over 52 million people and a large proportion of its people in the working class, the country's has great capability to maintain its rapid progress.
Recognised since 2013 as the industry's Biggest Automotive Parts, Accesories and Servicing Expo, MYANAUTO Expo will be next held from 17 - 19 November 2017 at MEP Mindama, Yangon, Myanmar and is your best platform to showcase your business to the Myanmar market. The event is expected to have participation by over 300 exhibiting companies and an attendance of over 6,000 trade visitors all over the country.
Whether your objective is to conduct market feasibility studies, seek local partners and distributors, increase existing market share in Myanmar, or simply just to maintain relationships with key clients while looking for new opportunities with foreign partners, you can be certain to meet your objectives at MYANAUTO 2017.
Initiate new business relationships at Myan Auto 2017!

Show Dates: 17 November - 19 November, 2017
Venue: MEP MINDAMA, YANGON
Booth: 409
Register your visit to the show today and visit us! Myanauto 2017
Click here to make an appointment with us! Connect With Us